Our Services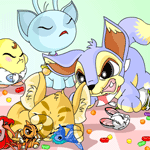 What We Do
The Welcome Wagon provides two main services to the guild. First, we neomail all new members and welcome them to the guild. Second, we answer any questions that they, or any other member, may have about the guild. A more detailed description is given below.
A Warm Welcome
An average of 7 to 20 people join our guild daily. We send a neomail to all the guild newbies welcoming them and let them know that they can neomail any questions they have about the guild to us. A little orientation of the guild, including important links to help out the newbies, is included in this neomail.
The Help Hotline
Questions that any guild member has can be neomailed to us. It doesn't matter if it's a question about how to use the paint factory or how to make a post in the message board. All questions will be answered, and if the question permits, a follow up guild link will be given after the answer for extra reading.