Welcome Wagon Team Resources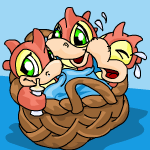 Welcome Wagon Team Members
How to find a Newbie
Have 2 internet windows open, and a pen and piece of paper. With one go to Gruckey's page to see which newbies have already been found and with the other go to the guild members list.


Grucky's Page: http://home.neopets.com/templates/homepage.phtml?pet_name=Gruckey
Guild Members List: http://www.neopets.com/guilds/guild_members.phtml?oid=paint4pets

On the members page click the buttons "CTRL" and "F" on your computer. This will bring up a search box that will search the page. Then type in yesterday's date in Month/Day/Year form. (example: November 2, 2002 would be 11/02/2002) If any members are found on that page, write it down on your piece of paper. Then go to the next page and repeat. You're also going to want to find the newbies that have joined today. Start from the main page and repeat the above instructions, except with today's date. Once you have completed your list, compare it with Gruckey's page. Cross off all the members on your list who are also listed on Gruckey's page. Now you're set to start neomailing!
The Newbie Neomail
First off, make sure that you are in the ppgwelcomewagon account. If you are not, go there right now =). All that you have to do is copy the neomail below, and paste it into the neomail.

Welcome to the PaintingPets Guild! We'd love to get to know you, so please stop by the message boards sometime soon. We like to have active members, so if you could post atleast once per month that would be great! :) To help you get acquanted with our guild, we suggest you read the following:

About us and FAQ http://cgi.tripod.com/paintingpets_guild/cgi-bin/ppgpage.pl?src=index.html

Thanks for Joining! If you ever have any other questions about anything, feel free to neomail them here. ~The PPG Welcome Wagon~ :)

P.S. Here's a little tip, if you're applying to adopt a pet, send only one neomail, put it's name in the title, and list a couple reasons why you want that pet.

Then neomail it to everyone on your list :) Once you've done that, you need to record the newbies that you've neomailed.
Recording the Newbie
You should to know how to use tables to do this, but if not, it's pretty easy. For this part you also need 2 window's open, they are:
Gruckey's Page: http://home.neopets.com/templates/homepage.phtml?pet_name=Gruckey
Edit Gruckey's Page: http://petpages.neopets.com/editpage.phtml?pet_name=Gruckey
First of all, do not edit the html at the top of his page. Scroll down until you are under the blank "td's". Then follow the instructions on Gruckey's page. Once you are done, click "change html".
Answering Questions
There are 3 steps to answering questions in the welcome wagon. They are:
Simple Answer
Advice
Further Reading
What is a simple answer? A simple answer is the first thing that is written in a response to a neomail. It contains the answer. The second part is advice. You add extra hints and tips here that might help a person in there situation. The third part is further reading. Try to provide a link or two to guild resources/neopets resources (and if you can, the actual link, not instructions to get there). Here's an example:
The neomail states: I don't have many neopoints, and I was wondering if you could lend me some neopoints or items to help me out.
The answer: Sorry, we do not lend out neopoints or items. However, playing games is a great way to make neopoints! Try games like kacheek seek, kiko match II, and meerca chase. You may want to check out http://www.geocities.com/tigerlily9195/cheats.html, http://www.nothingbutneopets.com/ and http://www.pinkpoogletoy.com/ for extra hints and tips. I hope this helps!
If you aren't sure what a question is asking, or what you should put as an answer, mark the neomail as unread. You can just leave it until someone else gets there or you can AIM another member. There's a list of everyone's AIM's at the top.